What's happening at Lo-Ellen Park Secondary School?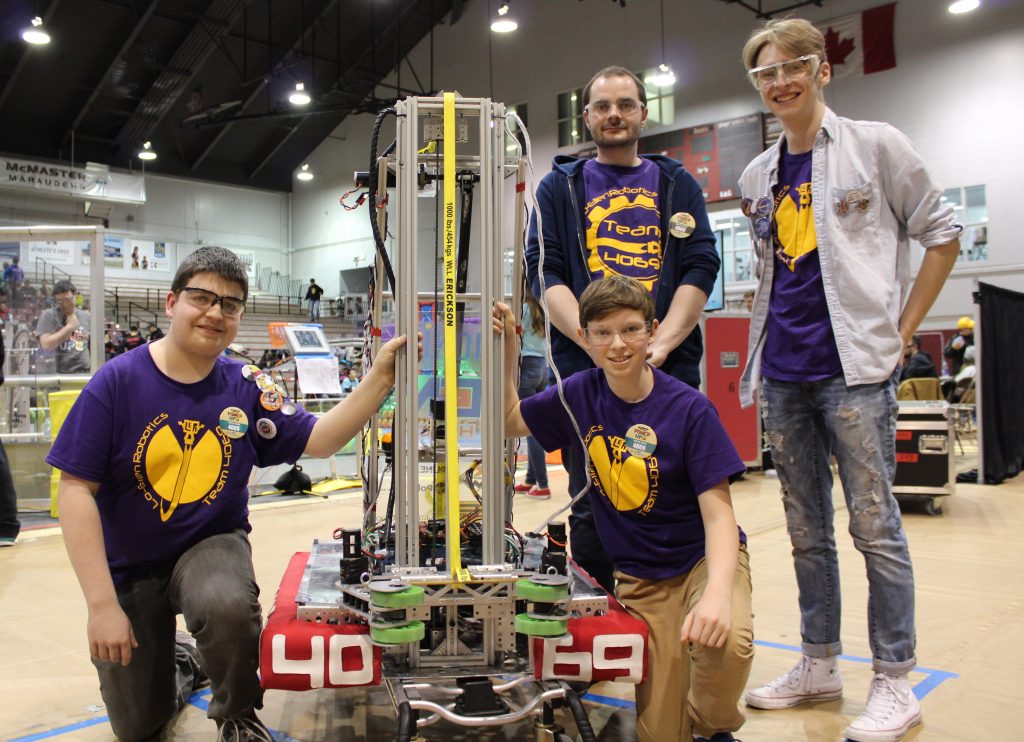 Lo-Ellen Robotics moves on to the Ontario Finals !
Congratulations go out to the Lo-Ellen Robotics Team (#4069) who now move on to the Ontario Finals in Mississauga April 11 – 14.  Mr. Monti sent an email to the team summarizing our season thus far:
"Don't worry, it builds character…"
 If you've been in the EDIT lab at any point during build season, you've heard me say this on many different occasions.  I usually say this line when someone is working on a difficult task or when someone is asked to do something that has frustrated them to no end in previous years (constructing and mounting bumpers anyone?).  I know it sometimes comes off as a quick quip by me, but I say this because I truly think that we grow the most when we face adversity and then decide how we will react and respond to a challenge.  Accordingly, it was only fitting going into the North Bay competition with our first ever practice robot with several "dialed-in" in autonomous modes (which our programming team worked so hard to create) that we would need to build some of that "character" that I refer to so frequently (for your reference, at least six of you were quick witted enough to use my own line against me last weekend).
I think we can all agree that we were pretty disappointed on the first two days of the North Bay competition.  In all honesty, no one could have foreseen the variation in power cubes from our shop to the practice field that left our intake relatively useless at competition. In turn, this led to several different challenges, one of the most glaring being… how do we respond to this?  This is one of those times that I am reminded of what FIRST is all about.  Instead of quitting, the ENTIRE team worked together, reacted, adapted and built a cobbled together wheeled intake mechanism from other teams spare parts in only a few hours at the competition.  This somehow worked.  And somehow… we got picked for competition in elimination matches.  We performed at North Bay and we moved on.
In the lead up to our second competition, instead of conceding a lost season, the team redesigned a major component that most other teams took 6 weeks to design and manufacture during build season.  By the way, other teams took notice of this at McMaster. Several veteran teams asked and inquired about how we could possibly do this in only three days.  Furthermore, the drive team adapted to both new roles and effectively, a new robot, and performed so well that the team achieved its highest ever seeding in Lo-Ellen Robotics history with a qualification rank of 7th place.  This was done against one of the strongest fields the team has faced off against in its seven years.
Working as the 4th seed alliance captain, the team used important data collected from the scouting team to, in my opinion, create one of the best overall alliance at the competition.  After winning the quarterfinals matchup, the team faced off against a former worlds champion and worlds finalist and gave them the closest run they had throughout the tournament, only losing by a few auto points at the beginning of the match.  After this performance, our fate was sealed and we booked a ticket to the District Championship this week!
For the first three years of our team, I think we really underestimated how lucky we were to make it to worlds in St Louis three times in a row.  For our current senior students, we have had three years where we have had to reflect and re-evaluate our performance at the end of each season.  I am happy that the team (especially the seniors!) have an opportunity to move on to the next level this year and I am hopeful that we can make the most of the opportunity.
Having said all of this, I want to say "Great Work" on the season to date to all members of the team. From the work of the business team, awards/sponsorships team, design, build drive and scouting teams, we are now heading to district champs in Mississauga and planning to continue to adapt as needed.  We should be very proud of our work to date.
---